VUNG TAU CITY
It takes only 2 hours driving from Ho Chi Minh City to Vung Tau. With 20 kilometers of coastline, Vung Tau has become a favorite tourism site for travelers from all over the world. From this wonderful places, you can easily get a full view of East Sea. Vung Tau is not only famous for its scenic nature but also for its culture as well.
Coming to Vung Tau, you can ease your soul and feel fresh. With majestic high mountains and clear blue sea, Vung Tau will bring you great moment and cozy air during trip trip. There are many things to enjoy, to adventure and discover here.
What is the weather like in Vung Tau?
Vung Tau has tropical climate with two seasons. Rainy season is from May to October, dry season lasts from November to April. And average temperature is 27 ° C.
When is the best time to visit Vung Tau?
You can get a Vung Tau tourism whenever you want. Vung Tau has a great weather with not too hot and cold. You just need some information from weather forecast to have a great time in this destination. Especially, on holidays or at festivals, this attracts thousands of people coming.
HOW TO GET TO VUNG TAU FROM HO CHI MINH CITY?
From Hochiminh city, you can have many ways to get to this beautiful places. It is only 120 kilometers from Ho Chi Minh city to Vung Tau, so you can take these 4 main kinds of transportation to get where you want.
1.SPEEDBOAT/FERRY from Ho Chi Minh to Vung Tau 
You can try the fastest way, to take a high speed train with only 1 and a half hour to get to Vung Tau.
– High speed ferry/boat of the Greenlines Ferry Company. Travel by ferry/boat from Ho Chi Minh City to Vung Tau takes about 1,5 hours
– price of the one-way boat/ferry ticket is about VND 260,000 (US$13 - 14)
– Port in Ho Chi Minh City: Cảng Nhà Rồng port located at 05 Nguyen Tat Thanh street, District 4, Ho Chi Minh City.
- Port in Vung Tau – Cable Car station Port
– High speed ferry is the fastest and most convenient option of transfer (Aircon, WC, Snack)
– come to the boat at least 30 minutes before departure
– children under 6 are free and do not need a ticket if they share a seat with a parent and children ages 6-11 are half price
Booking: +84989989597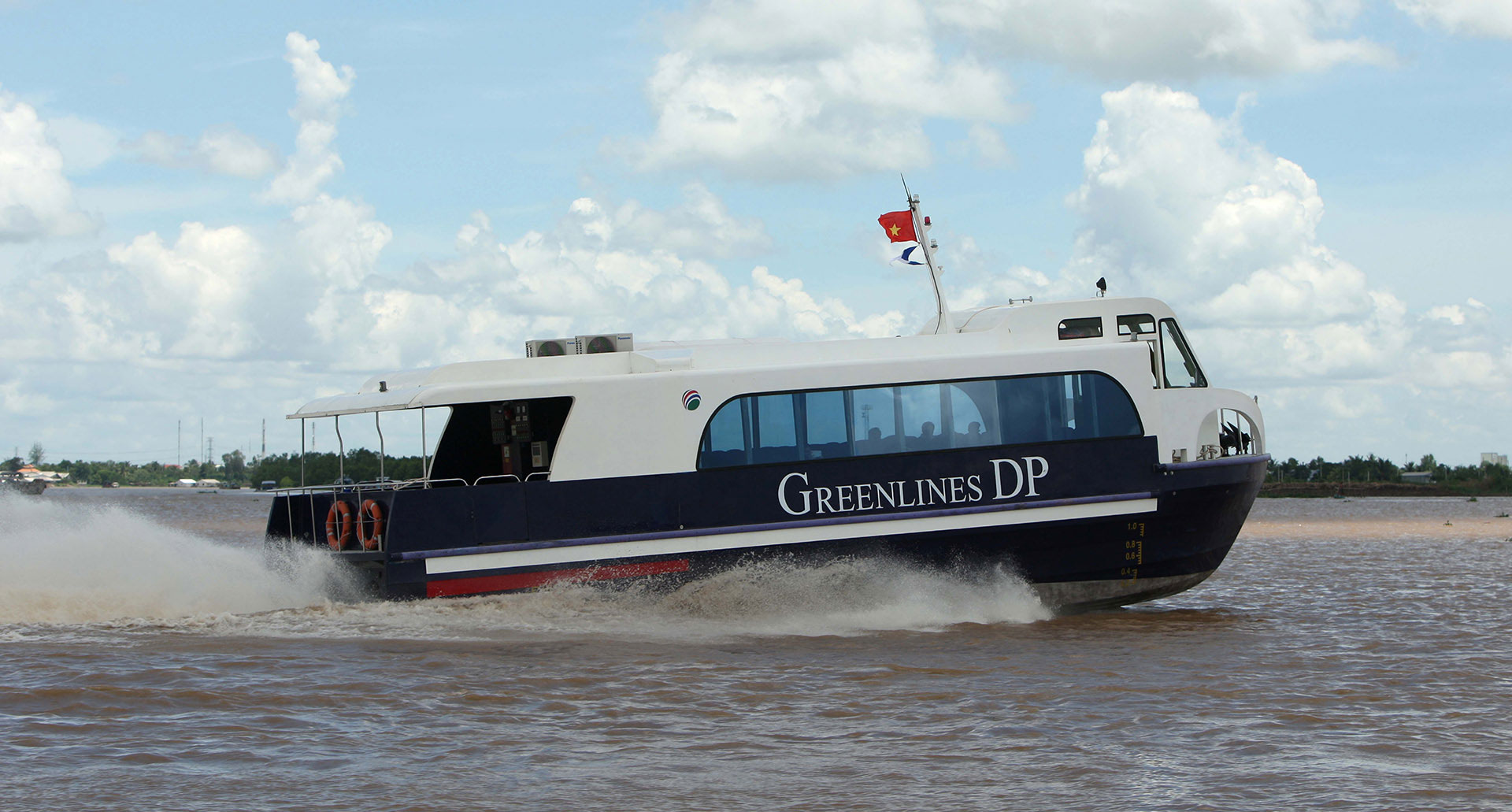 2. BUS from Ho Chi Minh City to Vung Tau 
Several buses of Futabus (Phuong Trang) run every day between these cities. Modern and comfortable buses for tourists and travellers. Travel by bus from Ho Chi Minh City to Vung Tau takes about 02 hours.
One-way bus ticket costs about VND100,000 – 140,000 (US$ 4 – 5 per seat)
Bus station in Ho Chi Minh City –  Futa Bus De Tham (272 – 274 Đề Thám street, Phạm Ngũ Lão ward) – Futabus station
Bus station in Vung Tau – Vung Tau Bus Station (192 Nam Kỳ Khởi Nghĩa street)
3. LIMOUSINE MINIVAN from Ho Chi Minh City to Vung Tau 
Several limousine minivans run every day from Saigon to Vung Tau. Modern and comfortable air-conditioned limousine minivans. Travel by limousine minivan from Ho Chi Minh City to Vung Tau takes about 2 hours. one-way ticket costs about VND 150,000 (US$ $7 per seat). Arrive at the boarding point at least 30 minutes before departure
Hoa Mai high quality buses
Time: 4h00 – 18h30 
Booking:
- Vung Tau: 0254.3531 980 – 0254.3531 981
- Ben Thanh : 02838.218 928 – 02838.218 927
Time: 4h00 – 18h30 
Booking:
- Vung Tau: 02543 853 853 - 02543 853 800 - 02543 853 848
- Ben Thanh : 0283 9144 051 - 0283 9144 052
4. Travel by MOTORBIKE to Vung Tau
It is very easy route from Ho Chi Minh City to Vung Tau on the motorbike. There are lots of motorbike rentals in Ho Chi Minh City (1 day costs about US$7 - 15)
If you use this, you can choose one of these two ways:
-First itinerary: 1A avenue -> Dong Nai bridge -> 51 avenue -> Vung tau city
– Second itinerary: HCM city -> Cat Lai ferry -> Nhon Trach-> 51 avenue ->Vung Tau city
You have to spend 3  to 3,5 hours to get to Vung Tau from Ho Chi Minh city. So you should prepare water and light food to get enough energy for your Vung Tau tourism. 
Numbers in need:
– City police: 0254 3852361
– Vung Tau post office : 0254 3623483
– Le Loi hospital : 0254 3832667
– Vinasun Taxi: 0254. 37 27 27 27
– Mai Linh Taxi: 0254 356 56 56
- Sun taxi: 0254 3627 627
WHERE TO GO IN VUNG TAU | PLACES TO VISIT IN VUNG TAU
VUNG TAU MAPS
1. Bai Sau
Vung Tau is very famous for its beautiful coastline. Around this place, there are many hotels and restaurants. That's why many travellers like Bai Sau during their Vung Tau tourism. You can even adventure Thuy Van road which is as beautiful as Tran Phu in Nha Trang.
2. Bai truoc 
Vung Tau city center is at this site. This has many high buildings and shopping malls surrounding. You can choose  to swim at Bai Sau and spend time to rest and see sunset in the afternoon at Bai Truoc of Vung Tau.
3. Long Hai
Long Hai is  110 kilometers to the north east of Ho Chi Minh city. It means that you have to spend 2 to 3 hours riding your motorbikes to get this in your Vung Tau tourism.Long Hai is famous for its clean blue sea and beautiful coast. You can not only enjoy fresh air, see wonderful sights but also enjoy great seafood in this place. You can also get to Binh Chau hot spring to have a good bath.
4. Ho Coc- Ho Tram
This is also among most visited places in Vietnam. These two seas locate in Xuyen Moc district and be attractive tourism sites. With their wild beauty, Ho Coc and Ho Tram can help you adventure great things from white sand coast to scenic beautiful rocks nearby.
5. Con Dao island
Have you heard about Con Dao island ? This must see in Vung Tau, Vietnam is very popular to the world. With clean pure water, high cool coconut trees and white sand coast, no one can ignore Con Dao beauty. Many travelers try to get great time to spend holiday in Con Dao just to adventure its wild nature and immerse themself. This can be considered tourism heaven in Vietnam.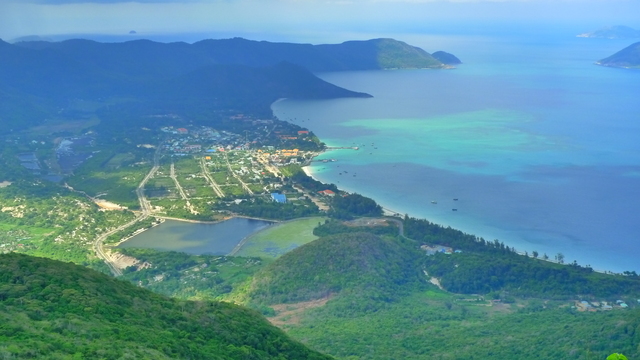 MUST VISIT PLACES IN VUNG TAU 
What will I do in Vung Tau? Where should I visit? These questions seem to be important to any travellers before going. Vung Tau has many amazing places to visit, you can have a full list of them right now.
1. The Statue of Gautama Buddha
This pagoda is on the Big mountain slope of Vung Tau. This i famous for its sights and architecture with very huge statue of Buddha and octagonal tower. From even long distance, you all can easily see the statue and famous tower.
How to get there? You can go from Le Loi street then continue on Tran Phu street and get to Bai Da and walk a bit more to get to this pagoda.
2. Staute of God spreading his hands
Visiting this statue is among top must see in Vietnam. This statue was built in 1974, in the peak of Small mountain. The statue is more than 30 meters in height, with arm span about 18,3 meters. At the height of 170 meters to sea level, this is a great place to get a good view of Vung Tau. You can also walk inside through 133 steps to get the highest position of the statue.  Well, like you were in Rio de Janeiro of Brasil, right!
3. Villa Blanche
This Bach Dinh ( Villa Blanche) was built in 1898. It was a construction with Roma style, leaning againts Big Mountain.Villa Blanche has 3 floors, 19 meters in height. There are 19 cannons kept here. You can get to number 10 on Tran Phu street to visit this building.
4. Ho May tourism site
Where should I visit during my Vung Tau tourism? Of course among most visited places is Ho May tourism site. This is an interesting place in Vung Tau to discover during your trip. You can adventure this wonderful destination with slings to be safe and fast. You can also enjoy many funny games to ease yourself and get fun. If you go with your children, this should be in list of yourmust visit places in Vung Tau. Children can play together with many games such as train game, water park, air plane.
5. Dinh Thang Tam relic & Whale temple
In this relic, you can not only visit Ngoi Tien Hien and Lang Mr Nam Hai, but also visit Mrs Ngu Hanh shrine. There are many places to discover in this relic. Dinh Thang Tam is located at 77A Hoang Hoa Tham street, Thang tam town, Vung Tau city. This is always in list of most attractive places in Ba Ria, Vung Tau.
6. Niet Ban Tinh Xa
Different from other pagodas, this Niet Ban Tinh Xa is a modern pagoda 1969. It is considered one of the most beautiful pagodas in Vung Tau. You can visit this and enjoy great view from its position to the sea.
7. Avalokitesvara Bodhisattva pagoda
Among most visited pagodas in VungTau is Avalokitesvara Bodhisattva. This is a small pagoda with a great statue 16 meters in height. Many Buddhists come here to pray and take pictures. This is small but very appealing to travellers. You can see the statue from a far distance in the city. It is from Bai Dau 500 meters. So  you can walk along to enjoy the air and see natural landscapes.
8. Linh Son Co Tu pagoda
Which is the oldest pagoda in Vung Tua? The answer is Linh Son Co Tu. You should not miss this durin your Vung Tau tourism. This has a big statue with 1,2 meters in height. All the statue is decorated with gold. You can see this great architecture at 61 Hoang Hoa Tham.
9. Vung Tau Lighthouse
This 2 floor house welcomes many travellers from all over the world. You can easily get here from Vung Tau city. From this destination, you can get deep understanding about local life, especially lighthouse keepers. From this, you can have a great view to see all Vung Tau city and beautiful beaches.
10. Long Son Big House 
This is also called Mr Tran temple. It was built long time ago and keeps its ancient architecture. Along the way, you can see old bricks and valuable woods. This temple has 3 parts: Temple; synagogues, schools, markets, the Ghe Sat and Mr Tran Tomb. It is located under Dua mountain, village 5, Long Son commune.
11. Ancient weapon museum (World Wide Arm museum)
This ancient weapon museum is built by Robert Tay-lor and his wife. Many travellers consider this the most incredible museum of Vietnam. Being open in 2002, until now, this has become popular to many both local people and foreigners. You can enjoy 500 dummies in this museum. They are wore clothes and weapons like soldiers. You can also see more than 1000 swords and guns, and listen to many stories related.
12. Hon Ba island
This Hon Ba island is famous for its white sand coast. Along this island, you can all immerse yourself with nature. You can see many people come here to pray at the shrine. This shrine in fact was built by budget of a man named Minh from center of Vietnam.
13. Upside down house 
One more fantastic experience during your holiday in Vungtau is to visit upside down house. This type of house is very strange, that's why many want to come and visit this. Upside down house in Vung Tau is a 3 floor building with 2 parts for visiting and coffee. You can have great places to take best pictures. This allows you to take great photos in 7 rooms, which are beautiful and nice. You can get to number 66 Co Giang, ward 4to enjoy this amazing experience.
Besides its furniture, upside down house is very featured by its design. Everything inside is upside down. You can walk on the roof instead of the floor. And you can see these things are on air above your head. Such thing like that makes upside down house a very interesting place to visit and discover during your Vung Tau, Vietnam tour. Many travellers like this because it makes them feel like they were out in the milky way. Of course, you can get wonderful pictures as much as you want.
To visit upside down house, you can get to number 66 Co Giang Street, ward 4 in Vung Tau city. It is just some dollar for a fantastic trip ! You can spend time from 6 am to 10pm to discover this place.
FESTIVALS IN VUNG TAU
There are many festivals held in Ba Ria-Vung Tau every year. They are traditional festivals which express local people life and culture. Many travellers come here to join and to be a part of them. This list below will introduce you some famous festival to be discovered next time.
1. Death anniversary of Tran Hung Dao 
On 20th of August lunar calendar, local people hold this festival to express their love and admiration to the hero of nation:Tran Hung Dao. This is held at number 68 Ha Long, ward 2 in Vung Tau city. This has become a popular festival, attract many come to take part in. You can join us and play many games and activities to know more about Vietnamese patriotism.
2. Dinh Co festival 
Dinh Co is a very huge architecture with traditional style. This is located near Long Hai beach. From 10-12 in February lunar calendar, this Dinh Co festival is held. You can not only join many activities but also see beautiful sights during your holiday in Vungtau
3. Ong festival 
Every year, Nghinh Ong festival is held at Ca Ong mausoleum on Hoang Hoa Tham street. This last 3 days from 16th to 18th in August. This is the biggest festival of fishermen in Vung Tau. This is considered one of 15 biggest festivals of Vietnam. Do not miss this wonderful  time!
4. Thang Tam temple festival 
This is a long festival, lasting for 4 days from 17th to 20th in February lunar calendar. This time is very important to local people. They pray for peace and good harvest. They hold many activities such as singing and lion dance. You can listen to their beautiful voices and also see many music instruments. This is not allowed anyone who has relatives dying.
5. Ms Ngu Hanh shrine festival 
This is held  for 3 days from 16 of October. This is a very big festival, attracts many people to come. You can know more about Vietnam religion during their customs in this festival.